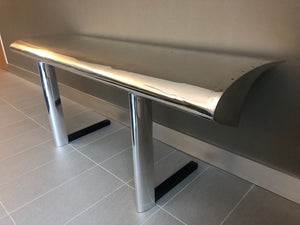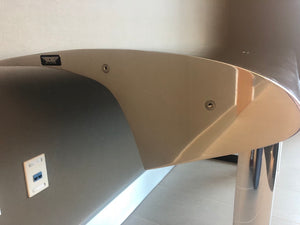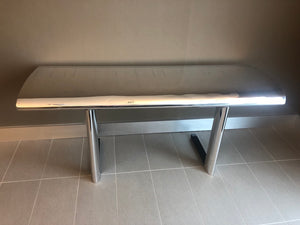 Boeing 727 Flap Cantilevered Credenza
The World Famous Boeing Company designs, manufactures and sells a variety of commercial and military aircraft among other things. Boeing is one of the largest Global Aerospace Manufacturers. They were founded in 1916 by William Boeing in Seattle, Washington. 
This magnificent Flap from a Boeing 727 was meticulously polished to a mirror finish. Over 30 hours of polishing took place to bring this piece to a bright shine. It is fitted with aluminum polished cantilevered legs. It currenlty sits at Amerijet International in Miami, Florida.
The credenza measures 34" in height by 19" wide by 70" in height. 
Reach out to us via our contact form if you have any questions about your next custom built art piece and to obtain pricing: Click Here! 
Note: This aircraft part is subject to some minor wear and tear from years of usage. It may contain small dings. It has been inspected and is free of major dents or any serious damage.