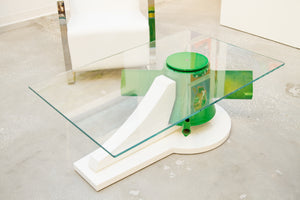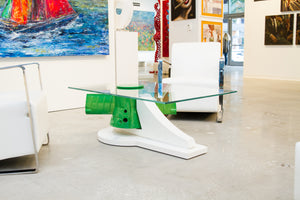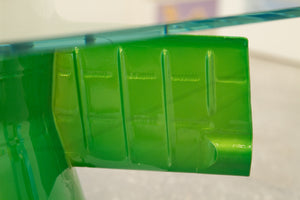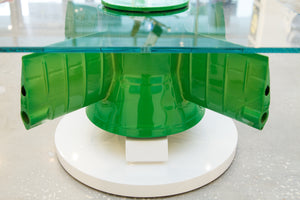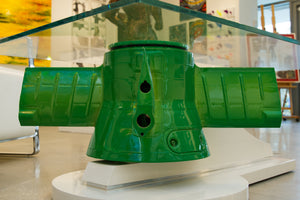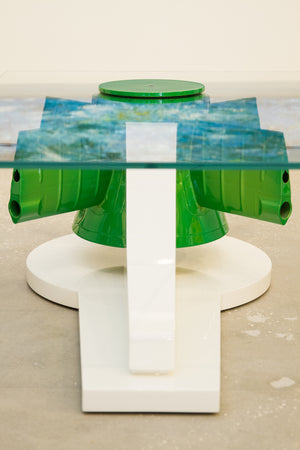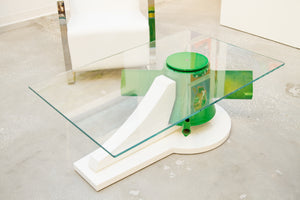 Boeing 737 Coffee Table
What a special piece this is! This Duct and Fairing Assembly was restored from a salvage yard and brought back to life! It came from a Pratt & Whitney JT8D Engine which made it's inaugural flight in 1963 and was widely popular among airline manufacturers of that time. It was used on airplanes such as Boeing 727 and 737 and McDonnell Douglas DC-9 and MD-80. 
The fairing assembly is powder coated in candy apple green and it's custom 1/4" aluminum base is powder coated in an off white to give this art piece a perfect look! It is fitted with a 1/2" tempered star fire glass top. Starfire is a low iron glass that greatly reduces the green edge to a light teal. 
Reach out to us via our contact form if you have any questions about your next custom built art piece and to obtain pricing: Click Here! 
Note: This aircraft part is subject to some minor wear and tear from years of usage. It may contain small dings. It has been inspected and is free of major dents or any serious damage.