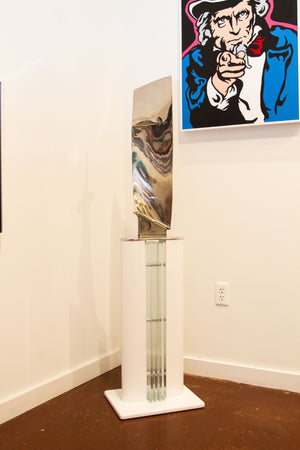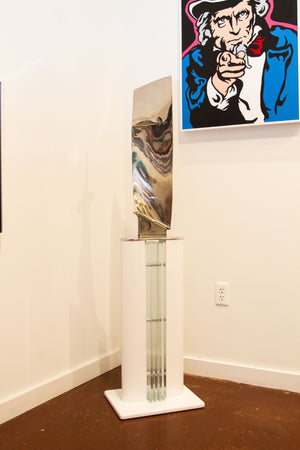 Airbus 320 Art Sculpture
This one of a kind art piece is intricately designed and put together to be unlike anything else in the Aviation Furniture and Art space. This piece was a custom design by Bob. He also built this amazing Art Sculpture entirely by himself. Bob & Oscar pride themselves in making their pieces unique and aesthetically pleasing!
The Titanium Blade came off of a Airbus 320 plane but a CFM-56-5B engine. 
The piece measures 4'-8" high x 12" wide and it is finished is a natural white powder coat with acid etching and priming beforehand. The fan blade is Titanium and the glass is 1/2" thick, tempered starfire which contains low iron and creates a light green teal. Aluminum sides compliment the piece with a 3/8" Aluminum center polished oval base. The foundation of the entire sculpture is 3⁄4" 6062 Aluminum. 
Call us or reach out to us via our contact form if you have any questions on your next custom built art piece and to obtain pricing: Click Here! 
Note: This aircraft part is subject to some minor wear and tear from years of usage. It may contain scuffs, small dings or scratches. It has been inspected and is free of major dents or any serious damage.