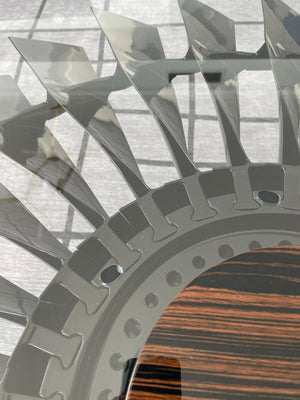 Boeing 737/P&W JT8D Fan Blade Coffee Table
The World Famous Boeing Company designs, manufactures and sells a variety of commercial and military aircraft among other things. Boeing is one of the largest Global Aerospace Manufacturers. They were founded in 1916 by William Boeing in Seattle, Washington. 
The Pratt & Whitney JT8D engine made it's inaugural flight in 1963 and was widely popular among airline manufacturers of that time. It was used on airplanes such as Boeing 727 and 737 and McDonnell Douglas DC-9 and MD-80.
This one of a kind Coffee Table was designed by our Founder Bob Verna to our clients specifications! It is both a mix of sleek contemporary Jet Black Glossy Powder Coated Blades and base and subtle and traditional African Ebony Veneer.  The top is fitted with a 1/2" tempered starfire glass. Starfire is low in iron content thus making the edge a very light green/teal.
Our clients Max and Luciana were very helpful in it's finished design. Check out Luciana's Fitness Page Here! She caters to your nutritional needs and builds your workouts to your desired goals and needs! 
Call us or reach out to us via our contact form if you have any questions about your next custom built art piece and to obtain pricing: Click Here! 
Note: This aircraft part is subject to some minor wear and tear from years of usage. It may contain small dings. It has been inspected and is free of major dents or any serious damage.