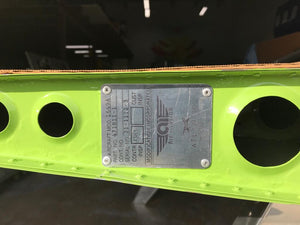 Lockheed Constellation Conference Desk
This beautiful Lockheed Constellation Conference Desk is the perfect conversation starter for any meeting! Lockheed Martin is a Global Aerospace Defense, Security and Advanced Technologies Company headquartered in Bethesda, Maryland. It was founded in 1995. The Lockheed Constellation airplane was a propeller driven four engine airliner built between 1943-1958. 
Reach out to us via our contact form if you have any questions on your next custom built art piece and to obtain pricing: Click Here! 
Note: This aircraft part is subject to some minor wear and tear from years of usage. It may contain small dings or scuffs. It has been inspected and is free of major dents or any serious damage.