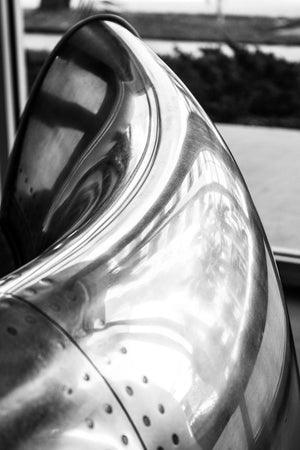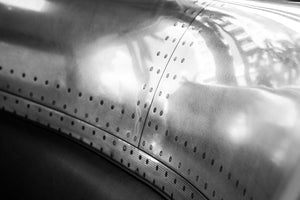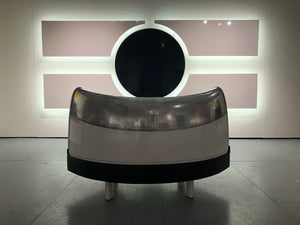 DC-8 Cowling Love Seat
This DC-8 Cowling Love Seat proudly sits at 11 Art Gallery  on 2200 Biscayne Blvd in Miami, Florida waiting to be taken home! It was used on a McDonnell Douglas 8. 
McDonnell Douglas is an American Aerospace company that was formed as a merger between McDonnell Aircraft and Douglas Aircraft company in 1997. They have produced a number of very significant aircraft including the DC-8, DC-10, MD-80. the F-15 Fighter Jet and the F-18 Superhornet Fighter Jet.  
The DC-8 took off on it's first flight on May 30, 1958 and was widely used as a commercial airliner. It is still in limited use today but only as a cargo airplane. 
The top of the cowling is the original aluminum finish restored to it's natural tone. The bottom section is powder coated white to replicate the original airplanes color. White and Black leatherette was used on the love seat as we do not support the use of animals for anything other than nutrition. The bottom legs were beautifully done in a powder coated gloss white to bring the entire piece together. 
A special thank you to 11 Art Gallery  for our partnership at Scope Miami 2019!
Reach out to us via our contact form if you have any questions on your next custom built art piece and to obtain pricing: Click Here! 
Note: This aircraft part is subject to some minor wear and tear from years of usage. It may contain small dings or scuffs. It has been inspected and is free of major dents or any serious damage.