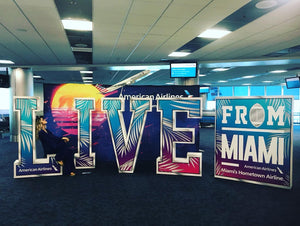 Superbowl Display
This Magnificent Super Bowl LIV American Airlines Display was Creatively Fabricated Especially for the Big Event! 
American Airlines is the World's largest airline when measured by fleet and recognized as Americas #1 go-to airline. American Airlines was founded in 1926 and has over ten hubs with Dallas,Texas being its largest. 
In conjunction with Atlantic Models in Miami, an American Airlines Commercial Airliner was fitted to sit on top of the "V" in the display. Custom stainless steel workings were used to place the airliner on top. Custom steel brackets were also fabricated to hold the letters "LIVE" upright. The channel letters were done by others. This project was a fun one and our client loved the outcome! 
Reach out to us via our contact form if you have any questions about your next dream project and to obtain pricing: Click Here!