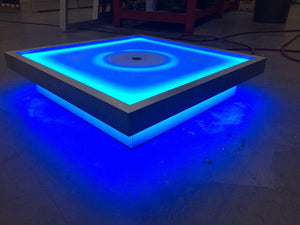 U.S. Air Force Display
The United States Military is the most ferocious and respected military in the World and it was an honor to manufacture this custom LED illuminated aluminum base for one of their lean top rockets. 
The Lean Top Rocket was carefully hand crafted by Atlantic Models and it looks exceptional! We wish we could show you the final outcome. This display unit was manufactured out of 5052 aluminum with an opaque white plexiglass insert in the middle. Blue LED lighting was intricately placed around the bottom perimeter of the unit.   
Reach out to us via our contact form if you have any questions about your next dream project and to obtain pricing: Click Here!